the Pied Pipers
---
Youngstown, 1966-70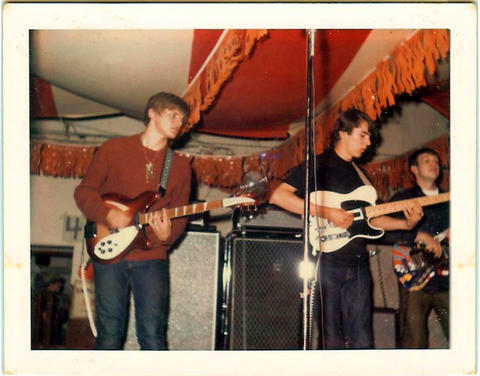 The Pied Pipers were started by students at Youngstown's Cardinal Mooney High School. Lead guitarist Les Moro, Bassist Pete Pompura, and drummer Lenny Krispinsky got connected with wildman lead singer Dennis Sesonsky and the Stones/R&B fueled foursome was rockin'!
The Pied Pipers played the usual local haunts such as Idora Park, Champion Rollarena, Willows Lake, and thanks in no small part to Dennis and his Jagger meets James Brown wildman act, became a very popular band. They recorded their first 45 at WAM in mid-late 1966, covers of "Hey Joe" and "Hold On I'm Coming". "Hey Joe" was a hit on WHOT and still turns up fairly often in the used record market.
In 1967 the group added Rich Gula on lead guitar and recorded their second 45 - an original by Dennis and Les Moro called "Stay in My Life" and another cover from the Stax songbook - "You Don't Know Like I Know". These sides were done at Cleveland Recording and self-released on the Hamlin Town label. Again, the record was a WHOT hit. It's not confirmed if Rich Gula was in the band for this record.
With success came personnel changes, and Lenny Krispinsky was sacked so that 16 year old ace drummer Brad Naples could join. Brad, a Boardman High student, had been in the Clockwork Blues with seminal local legend Sandor Ives. Shortly after, Les Moro left and Todd Stevenson joined on guitar. This version of the Pied Pipers is probably the one that is remembered best by the locals. By now the band was touring from Athens, OH to Pittsburgh to Ft. Wayne, Indiana. Some demos were recorded but are not yet accounted for. This band played together for a year to 18 months, during which Pete Pompura left and the band became a four piece again with Stevenson moving to bass.
In late '69 or early '70 the Pied Pipers welcomed ex-Human Beingz guitarist Dick Belley into the band. Belley was looking for a lower-key gig and sitting in with the band a couple times, the lineup clicked. Dick left the lead singing to Dennis. Rich Gula left, and the band called themselves the Pipers. This is the band that played the April 1970 show with Blue Ash and the Sound Barrier - now that's a dream billing if there was one! However the band had run its course with the members moving on to different groups.