the Headliners / Satans Sinners / Danny and the Santons
---
Cleveland, 1962-71
Originally started as a Collinwood neighborhood band in 1962, Danny (Blase) Lombardo (lead singer), Joel Scigliano (drums), Jim Siciliano (rhythm guitar) and Jim Palumbo (lead guitar) came together to form Danny and the Santons. Don Yuse (keyboard and sax) and Duane Verh (bass guitar) were added to the band after a couple years and as a group enjoyed considerable local success.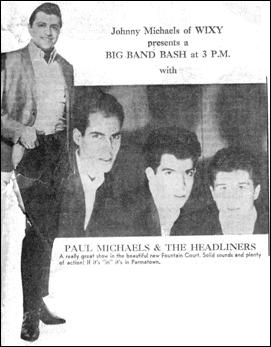 After Duane Verh left the group, Jim Siciliano switched over to bass guitar and Marty Angeletti (trumpet) and Neil Silverman (sax) were added and they changed the bandís name to Satanís Sinners. Upon the departure of Danny Lombardo, Paul (Pestello) Michaels joined the group and they changed their name to Paul Michaels and The Headliners. Under the management of local DJ Larry Morrow the group became one of the top attractions in the Cleveland area. With their six part harmonies the group was known for their renditions of a variety of songs by the Four Seasons as well as contemporary artists such as the Mamas & Papas, The Young Rascals, Chicago and many others. The Headliners also backed a Cleveland soul vocal group, the Intertains, for their live apperances (they did not play on the Intertains' recordings). The band was the house band for the short lived "Big Ralph" TV show (patterned after Upbeat, with local bands). During the TV show they played live, opening the show with "Taste Of Honey". Upon the departure of Paul Michaels, the group brought in Jerry Tiffe to handle the lead vocals and added Mike Cefaratti on sax to replace Neil Silverman and Randy Young took over the role as lead guitar. During the last year or so Thom Basie joined as lead singer and rhythm guitar.
After winning Clevelandís Battle of the Bands at the Teen Fair the group became a Friday night regular at the Agora for many years as well as playing at many local clubs until they disbanded in 1971.