Euphrates
---
Cleveland, 1971-3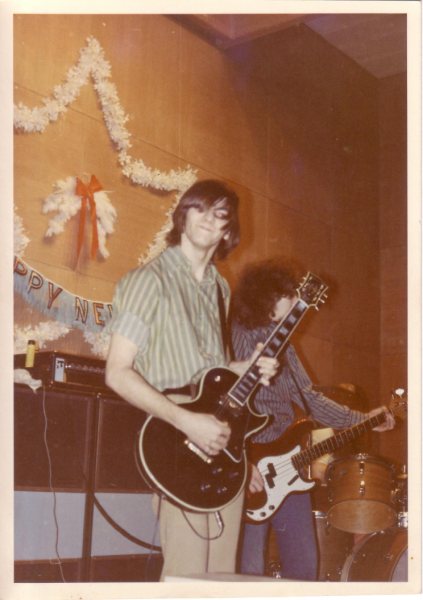 L-R: Jeff Castille (guitar), Bob Hostnik (bass), Eugene Readon (drums)
Euphrates was a popular band in Cleveland's club scene during their existence from the fall of 1971 until early 1973.
The band was put together by manager Bruce Astor. Bruce had previously managed a band called "Featherwood"......also a horn band.......he blended a couple of Featherwood members (Ray Lamatrice, keyboards and Bill Perconte, the sax /flute player) with Dave Eaton, trombone, of North River Street Rock Collection and the original trumpet player Kenny Zahorchek was later replaced by Lance Golberg of North River Street Rock Collection. The lead vocalist was Chuck Aaman and on the drums, Eugene Reardon (who later joined fellow Clevelander Andy Gerome for a stint in Savoy Brown). The bass player was Bob Hostnik and Jeff Castille (Grenade/Target) was the guitar player.
This band was no ordinary horn band as the rhythm section were influenced by the heavier sounds of the time ( Hendrix/Cream) while the horn section was influenced by Chicago,Blood Sweet and Tears. Dave Eaton, who is now the music director for the New York City Symphony, created amazing horn arrangements. This was a horn band on steroids. The material included a couple songs by a group called "Ballin' Jack", entitled "Hold On" and "Superhighway". These songs were more progressive that the typical pop hits of the day. Frequenty, improvised jams were played in the middle of many of these songs. This led to some conflict as not everyone appreciated the extended jams. The musicianship was so good that many people would not want to dance but just stand and watch the band. Often a crowd of several hundred people would surround the stage and watch. This suited many of the band members....but alas....Agora management wanted a dance band on Friday nights.
If Euphrates had a song that was a show stopper it was probably a song called "Mr Skin" by a group called "Spirit" Jeff Castille remembers - "When the intro the "Mr. Skin" started everyone dropped what they were doing and ran to the dance floor. Even people who were not dancers danced on that one. Yes, "the joint was jumpin' ". After a year plus of playing at Cleveland's top venues (including a steady Friday night gig at the Agora for over a year) Jeff Castille decided to leave the band "as there was always unwelcome pressure for us to be commercial and 'danceable'....and I wanted to play concerts and original material". Jeff was replaced by the former guitar player for the North River Street Rock Collection.
However, the Castille-less Euphrates was not the same. Hostnik, Readon, and Aaman visited Castille at Kent State University and they convinced him to start his own band. With the addition of guitarist Ron Schimer the band "Castille" was born. This was a short lived hard rock project.
David Eaton moved to New York City in 1975 and since 1985 he has been the music director for the New York City Symphony – www.nycsymphony.org. Eugene Readon is deceased. Jeff Castille is alive and well in Northern California. Bill Perconte is a music professor at Lewis and Clark College, Ray Lamatrice plays with the group "Third Street Exit" and currently resides in Florida.
Thanks to Jeff Castille, David Eaton