Dauphine Street Blues
---
Cincinnati, 1965-9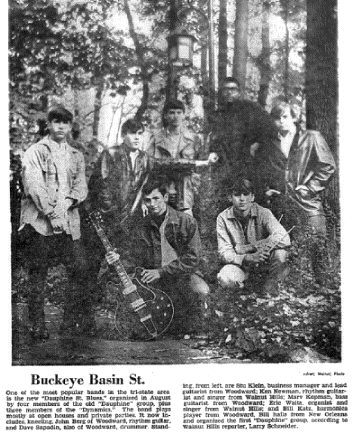 "The Dauphine Street Blues were one of the many bands that formed during the 60's in Cincinnati, Ohio. The DSB were a special group in that they played an eclectic mixture of music that ranged from The Temptations and Four Tops, to Jimi Hendrix, The Zombies, Paul Butterfield, The Beatles, Animals, Rascals, Love, Blues Magoos, Sam & Dave, The Who, Smokey Robinson, The Byrds, Doors, and Rolling Stones....all from a a group of high school students ranging in age from 15 to 18. The Dauphine Street Blues were regularly booked at University of Cincinnati watering-holes such as "The Round Table," and "The Pickle-Barrel," as well as at parties and events all over the tri-state area." - from the Dauphine Street Blues website
The Dauphine Street Blues were composed of students from Cincinnati's Walnut Hills and Woodward High Schools. The band was formed in 1965 and originally included Marv Kopman (bass), Stu Klein (guitar), Bill Hoffman (drums), Bill Katz (vocals, harmonica), and John Berg (guitar). In 1966 the band reorganized, merging with the Dynamics. The new lineup was John Berg, David Sapadin (drums), Stu Klein, Ken Newman (guitar), Eric Waits (keyboards), and Marv Kopman. The band later included Fred Bing and Tom Dreskin on guitars.
The DSB never released a record, but did record a session of cover songs in 1967.
More information, including reunions, and a sound file of one of the 1967 recordings, can be found on the band's website - www.dsblues.com
Thanks to David Sapadin and the Dauphine Street Blues website.