Bearcreek
---
Dayton, 1978-1983
<![if !vml]>
<![endif]>
Around March of 1978, D. MaLoon, a veteran of many local bands in the Dayton area, and Bill Begley, former front man for the Miamisburg based late 60's band Third Generation began a search for musicians to form a new band. After much effort, they hooked up with Gregg and Doug Jones, two brothers who had been playing and singing together since childhood. The first rehearsal was May 4th of 1978. Soon, guitarist Mike Dowden was added to round out the original lineup – Bill Begley – vocals, Mike Dowden – guitar, Gregg Jones – guitar and vocals, D. MaLoon – Fender bass and vocals, and Doug Jones – drums and vocals
After an exhausting rehearsal schedule, the band started playing regularly at many local clubs and did some spotlight appearances as openers for national acts including Iron Butterfly, Black Oak Arkansas, and Billy Cobham.
At this point in time, Bearcreek went into the studio and started recording their original music that had become favorites at local clubs. Several tracks were submitted to WTUE, Dayton's premiere rock station, as candidates for WTUE's Homegrown Album. One song, "Ooh Lady", was chosen and thus secured the band's ties with the top rock station in the Dayton area.
<![if !vml]>
<![endif]><![if !vml]>
<![endif]>
Toward the end of 1979 Mike Dowden left the band to pursue other interests and Pat Kierstad was added on guitar and vocals. Pat was a veteran musician and founding member of the Star City Band, which was, at the time, calling it quits.
That's when things really started to take off!
Bearcreek was chosen to open for Point Blank at the Victory Theatre for the WTUE Fourth Anniversary show in May, 1980. The show went great. By this time the band had already added some of Pat and Gregg's original music to their song list and began playing many events promoted by the radio station.
That summer, the local club scene became even more grueling forcing the band members to leave their 'day jobs' to pursue their musical career. Often referred to, by other local musicians, as "the workingest band" in the area, Bearcreek performed 5, 6, and sometimes 7 nights a week, often doing an outdoor gig by day and back to the club that night!
<![if !vml]>
<![endif]>
That fall, Bill Begley abruptly left the band forcing other members with a decision on whether or not to look for a new frontman. Since all four remaining members were vocalists, they decided to 'go it' without a frontman. This was a milestone decision and the band was always known for superb harmonies and vocal arrangements.
<![if !vml]>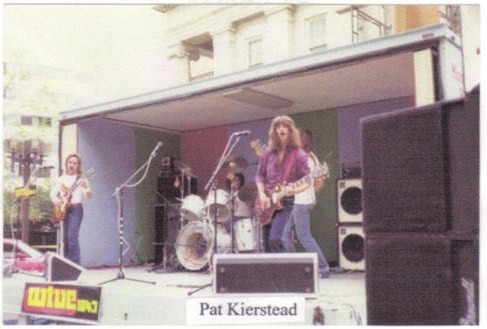 <![endif]>
More rehearsal ensued to revise the playlist with one member departed and the band came out of it stronger than ever. Gregg and Pat continued writing songs and with the addition of Mike Dane on keyboards and vocals, the studio work continued. Once again, in early 1981, the band was chosen to appear on WTUE's Homegrown II Album. Pat had written "All American Fool", highlighting his extensive prowess on slide guitar, and the album came out in the spring with extensive airplay. Each band chosen for the album did a one hour live broadcast concert at the 'She' nightclub in Dayton. The show was also simulcast on public television in the area. The Bearcreek show was July 16, 1981.
By this time, the band had hired two full-time crew members: Thom Morgan – sound and Steve Woolf – lighting and effects. The band members had always sat aside funds for improving equipment and with the trend toward bigger and better venues, Bearcreek, at this time, possessed one of the largest sound reinforcement systems in the area (see photo). They also had the reputation of being the loudest rock band in town. You know what they say – "if it's too loud, you're too old". The band felt, and their following agreed, the intensity and high energy level of their performances necessitated high volume and thunderous bottom end.
<![if !vml]>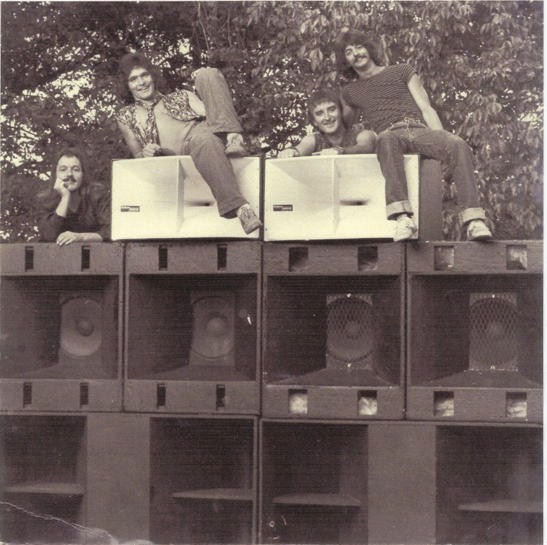 <![endif]>
In the later summer of 1981, Mike Dane left and the band hooked up with a regional agency and went on the road to play a series of large clubs in Indiana, Kentucky, Tennessee, West Virginia, and Virginia. After the first trip, it became evident that truck rental expense was prohibitive and so the band did what any typical band of the era did – they bought a school bus and converted it to a freight and transportation vehicle (see photo).
<![if !vml]>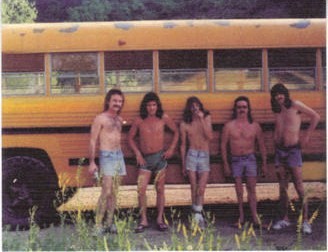 <![endif]>
The fall of 1981 proved to be the busiest ever. In addition to road trips out of state for weeks at a time, the local club scene was phenomenal. Bearcreek headlined WTUE's outdoor Labor Day Jam at Island Park for a crowd of thousands. On September 25 they played Dayton's first annual "Affair At The Square" in downtown Dayton and that following Tuesday it was off to Cincinnati for a one-nighter at Bogart's. On Friday, November 6, the band served as the opening act for Grand Funk at Dayton's Hara Arena. Band members recall that during December 1981, the band worked all 31 nights! Even Christmas! Later that winter, Thom Morgan left his position as sound engineer and was replaced by Dave Shores, who had no fear of the powerful sound system under his command.
<![if !vml]>
<![endif]>
Spring and summer of 1982 provided more of the same. The club work was nonstop and the frequent road trips continued. Bearcreek found themselves performing at the Belle Starr nightclub in Knoxville, Tennessee during the World's Fair hosted by the city. That summer the band continued to play many huge outdoor events sponsored by WTUE. The band's local and regional following had grown so large by this time that some Dayton area clubs actually hired local acts as openers for Bearcreek's performances.
<![if !vml]>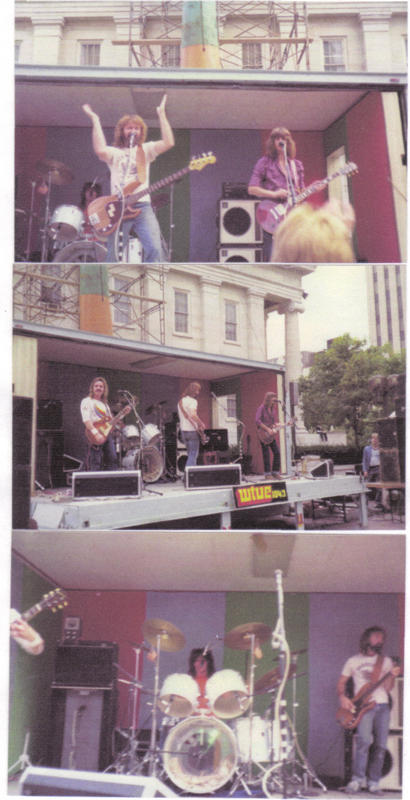 <![endif]>
As the band's influence continued to grow., meetings with a more powerful management company led to the signing of an exclusive world-wide promotional rights contract. After a celebration, the band was preparing to embark on a global U.S.O. tour. Less than two weeks of the anticipated departure, the promotional company dissolved leaving many other bands stranded in various places around the world (That's rock and roll). After many months of planning, including moving Mike Dane back from Texas, this proved to be the final knock-out punch to the band's dreams of continued success. The band did its final performance on October 29, 1983, at CCs Upstairs Lounge in downtown Miamisburg.
<![if !vml]>
<![endif]>
The band has done a few reunion performances over the course of the last 25 years and the magic always returns. Who knows, it might just well be time for another one. To quote of the band's favorite closing numbers, "STILL ALIVE AND WELL" – Rock and Roll – Bearcreek style.
Thanks to D. MaLoon for the story and pics!